Mad About Tools - Arbortech AS170 Tips on how to get the best from your power tool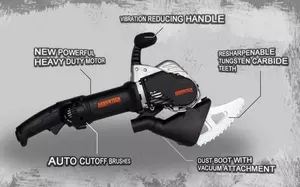 Check out MadAboutTools.co.uk for the Arbortech AS170 and associated Accessories.
Here are a few Top Tips which will help you get the best out of the Machine and keep it going for many years.
Top Tips -
When using this power tool do not place too much pressure on the tool, let the tool do the work.

Keep the tool moving whilst making the cut - this helps to remove the spoil and stops the blades jamming in the cut.

As the teeth are wider than the blade you can use the side of the teeth to help make the cut wider when pointing.

Keep the Blade Teeth in tip top condition by regularly sharpening them with the Arbortech A16054 Diamond Blade mounted on a 4" or 4.5" Angle Grinder.

Regularly check the tightness of the screws holding the blades. If they become loose the holes can become oval which will make the blades unusable!

Only use the supplied 'Ian' (Hex) Key to tighten the blade screws as when the loop on the Key closes then screws are done up to the correct torque.

Replace any damaged Blade Retaining screws with only genuine Arbortech replacments as they are specially machined to aid blade retension..

Give the machine a good vacuum out after use in a dust environment to help reduce brush and belt wear.

Keep the AS170 in its bag to help reduce the possibility of damage whilst in the van - the blades can be damaged if knocked and once bent they cannot be used. Replacements are from £60.