Screws for Roofing and Landscaping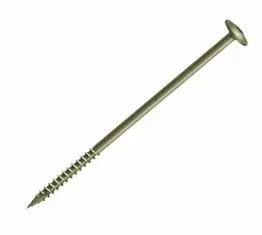 Whether you are constructing a Warm Roof, building Decking or Landscaping with Sleepers the TIMco Wafer Head In-Dex Screw is the Fixing of choice.
The Low Profile Torx drive head is great for Warm Roofing and with lengths up to 400mm you can fix any thickness of Insulation.
They have an Olive Green finish which is able to withstand 1000 hrs of salt spray so are ideal for external applications.
The Screw has a Sharp point with a Slash to help penetration and has Patented Molecular Lubrication to increase insertion speed.
The Wafer Head In-Dex screws are available from 95mm up to 400mm